Germantown Art & Sound
July 28 @ 7:00 pm

-

10:00 pm

EDT
Support talented artists in the heart of Germantown at this interactive community art show!
Join us on 4th Friday for Germantown Art & Sound, a kickback for local creatives with an art show highlighting local artists. Complete with complimentary wine and a music playlist that is uniquely curated by our guests, we deliver your Friday night vibes just right.
Event Details
Tickets: Suggested donation of $10. Cash, cash app, venmo and card accepted at the door.
Food & Drink: Wine, candies and treats will be available. This event is also BYOB.
Transportation: Our House Culture Center is easily accessible by bus (route 23). Free & metered street parking is available around the venue.
Accessibility: One entrance has two steps up with no railing. The side entrance has no steps. There are two steps with no railing within the venue space. The Our House restroom is gender inclusive. For all accessibility questions, please contact info@iloveourhouse.org.
Health & Safety: Masks are optional, but encouraged.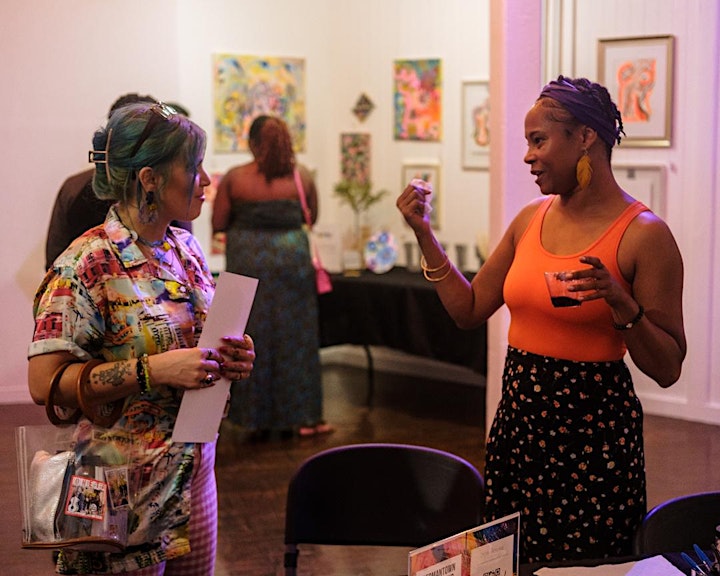 Featured Artists
Névia Da'Vesa– Névia Da'Ves is a South Jersey painter creating art that testifies of journeying deeper into the soul. Discovering peace, calmness of spirit, and vibrancy of heart. She is in the business of evoking ease, inner confidence, and peace of mind. Her inspiration comes from nature, being a woman, and having faith.
ArtSoul By Gen – Falling under surrealism, Genesis Perez' art focuses on a wide range of subjects that have greatly influenced her life such as the LGBTQ+ community, nature, mental health awareness, and the beauty of black people across the diaspora. Her hope is that viewers of her art can turn inwards towards themselves in order to a reality that makes them feel alive.
Heather Bowlan – Heather Bowlans' mixed-media collages are inspired by the idea of 'precarious survival', a term that challenges capitalist ideas of individual selves. These collages consist of layers of images taken from mixed media, including magazine ads, Covid-19 at-home test instructions and natural objects like shells. Bowlan has deep roots in Germantown and Northwest Philadelphia.
Shaunia Bronson– Shaunia Bronson is an art teacher and traveling exhibition artist. Raised in Philadelphia, PA, Bronson is diverse in the field of arts, having come from a performing arts high school, and majoring in arts education in college. She hopes to integrate that diversity into her work.
Ayiana Viviana – Ayiana Viviana Porter is a Philadelphia based emerging abstract artist whose work focuses on the exploration of thoughts, emotion and humanity. Ayiana's works consists primarily of acrylic based paintings and drawings on canvas or heavy weight acrylic paper. Her art strongly encourages the observer to identify and unearth their own deep seeded thoughts and emotions.
Thistle Pot– Rebecca is a weaver/ textile artist currently living and working in Germantown. She draws a lot of inspiration from the natural environment. Much of her work is woven, felted, and then hand stitched into her designs.
Diaja – Diaja's photography is known for storytelling through various photographic series. These series' are often inspired by current events, Black and African culture, and social disparities. Her goal as an artist is to impact others, give back to her community, and give a voice to those that are overlooked. Diaja's desire is that her body of work will be remembered and noted among other great artists of all time.
Live Music
Velvet Gruve – Velvet Grüve is an instrumental band that takes influence from all genres of music ranging from funk to metal. We believe music can oftentimes speak for itself without lyrics. Our group developed an eccentric sound through casual jam sessions that stem from our own individual explorations of music. Our mission is for everyone to have an immersive listening experience through Velvet Grüve's affinity for sound.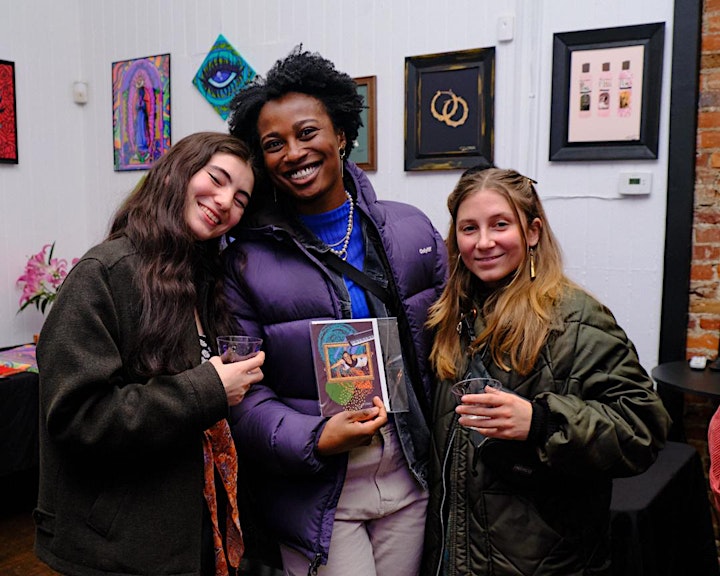 Collaborators
Our House Culture Center – Our House is a 501(c)(3) non-profit arts organization dedicated to providing a platform and space for artists to network, gain exposure, share skills and knowledge with one another. Our House hosts events, collaborative exhibitions, group projects, and more on a broad range of important issues including environmental, economic, social and cultural sustainability through the development and leveraging of local and regional partnerships.
Vanessa Chandler – Vanessa Chandler is a Philadelphia based creative and event planner. She finds her passion in supporting local artists, curating community art shows and MCing live music events. Born in Norristown PA, Vanessa has lived in Philadelphia since attending Temple University in 2015. Vanessa holds a Bachelor's of Science in Tourism and Hospitality Management with a focus in event leadership.
The Germantown ArtHaus – The Germantown ArtHaus' mission is to encourage and nurture creativity and personal growth through the promotion of high-quality community arts, wellness, education, and professional-development programming. (Fingers-crossed) opening in the Fall of 2022, the ArtHaus will be a collegial place where artists can create, exhibit, and sell their work. A vibrant hub for the community, the ArtHaus will also be a safe place for our children to experience the boundless opportunities for freedom of expression the arts make possible.
Julian Moore-Griffin – Julian is a prolific storyteller. Whether penning articles spotlighting Philly's Sneakers of Brotherly Love, social justice in the city, cultural and community happenings or capturing the city's night life through his camera's lens, his thoughtful applications give his work a colorful depth and layered meaning. Check out Julian Moore-Griffin!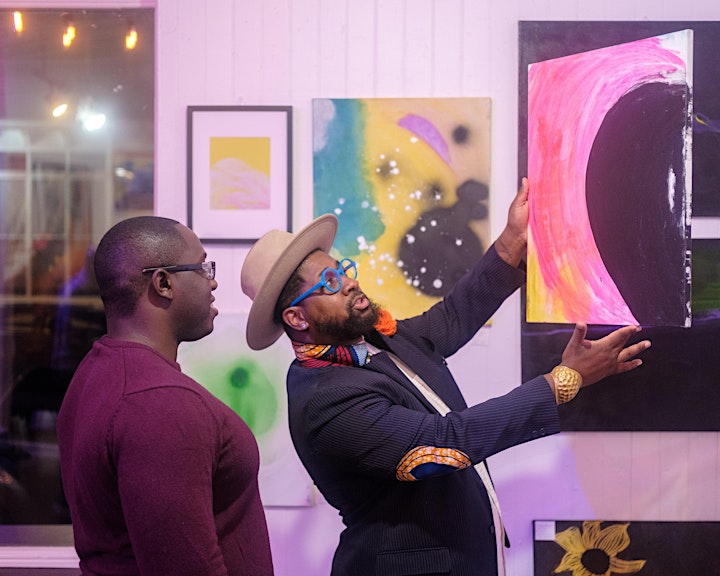 Previously Featured Artists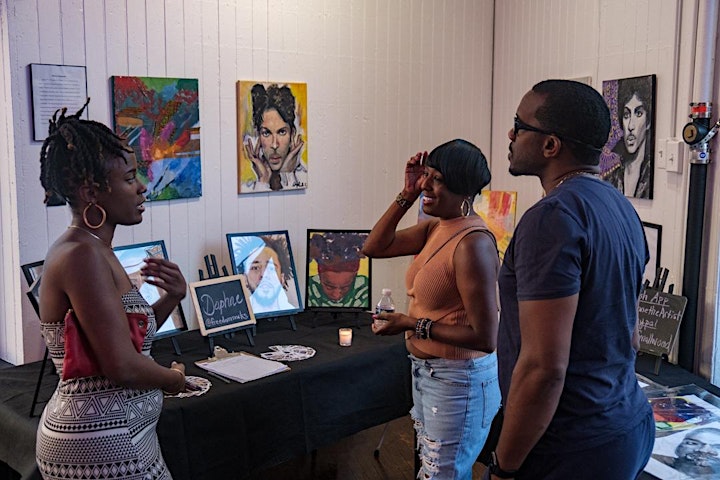 Interested in Showcasing Your Work?
Germantown Art & Sound was created with the creative in mind! We are a passionate platform for artists to share and (most importantly) SELL their work to a supportive and growing community of art lovers! Apply to participate here.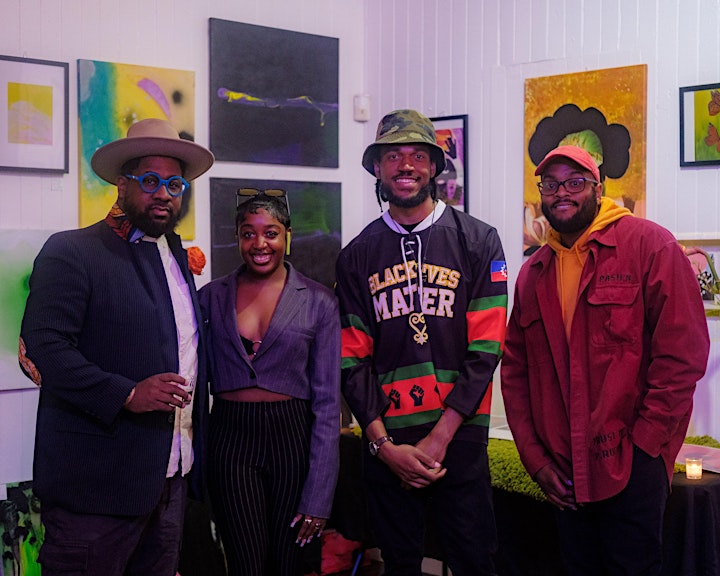 Related Events