WELCOME TO THE ART FAIR GALLERY!
We are creating this community to make connections between those who love to shop for unique things and the artists who create them. A community of artists, makers, organizers and shoppers. A place to find a specific artist or find a local fair to shop at this weekend.
Join, shop, list and let's support our local artists!
If you are an artist with limited access to live events and would like a way for your customers to shop in your online shops. In addition, we have started a virtual shop, which we will promote for free with your membership. There are two different memberships, one is free one has a low monthly fee of $5. You can read about your different options when you click the link to join.
Shoppers and Patrons
To help you shop, we have created an artist directory, a virtual shop as well as a calendar of events to find a local art or craft fair near you. Click on the events tab to search for one. Our event listing is growing daily. Check back frequently for an event near you.
Are you an event organizer? We feel your pain, as well. This season has been difficult. If you have an event either in-person or virtual this year or would like to get your 2021 event posted, you can either submit your own event here or please email us at events@theartfairgallery.com to list your show on our roster. 
Please double check event status by clicking into the links - events may have been canceled because of weather
FREE! Hispanic Heritage–ArtServe Narratives in Latin-American Art Exhibit
November 29 @ 9:00 am

-

5:00 pm

EST
Latin and Hispanic artists from 12 different nations will exhibit at ArtServe's "Narratives in Latin-American Art" Oct. 13–Dec. 30
Related Events
Holiday Craft Fair at Cheyenne Mountain High School, Over 140 Vendors
December 3 @ 9:00 am

-

4:00 pm

MST
10th Annual Holiday Craft Fair! All handmade crafts with over 140 Vendors! Taste of the Holidays Bake Sale! Holiday Dollars Give-a-way!
Free Admission, Free Parking, Free Shuttle Service
For more information visitL
www.cmhscraftfair.com
Facebook: Cheyenne Mountain Craft Fair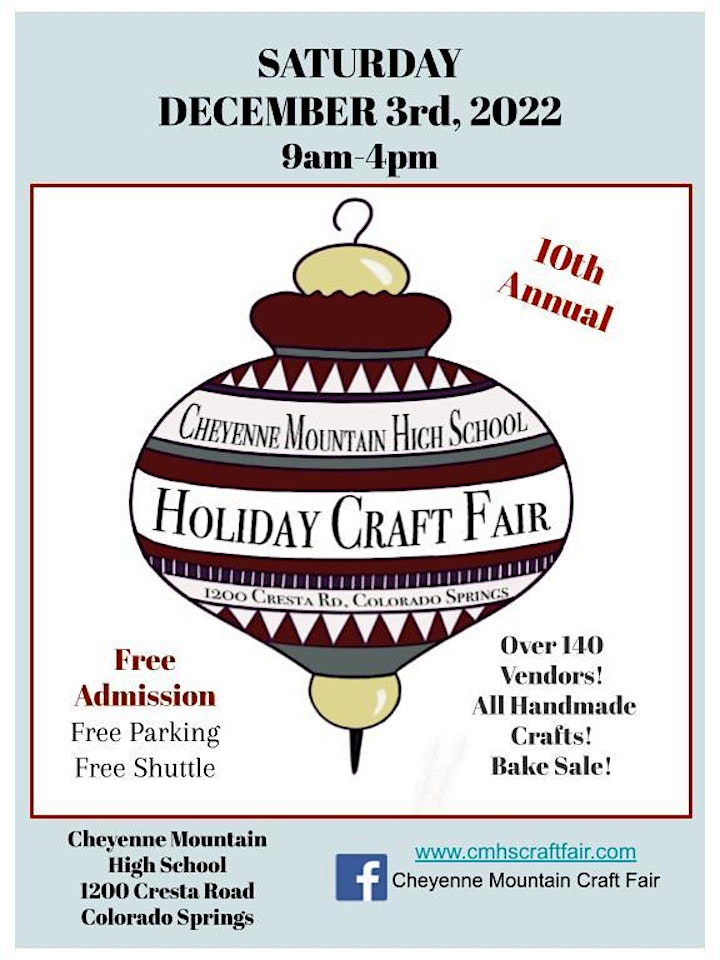 Related Events
Miami Art Week Exhibition: La Botanica at Orange Blossom Miami
November 30 @ 9:00 am

-

December 4 @ 10:30 pm

EST
The Culture Candy presents La Botanica at Orange Blossom Miami, a group exhibition for Miami Art Basel Week 2022
Details:
Miami Art Week 2022
November 30th – December 4th
2000 Collins Ave., #7
Miami, FL 33139
This is an art and dine exhibition, a concept by The Culture Candy in efforts to showcase visual art while making fine art accessible in public spaces and highlighting culinary arts. All work is available for sale, contact info@theculturecandy.com for inquiries.
"I paint flowers so they will not die." – Frida Kahlo
Reservations:
You can stop by and view this exhibition for free anytime between the below opening hours, make a reservation to dine here or walk-in for a drink while enjoying the exhibition.
"My garden is my most beautiful masterpiece" – Claude Monet
About the exhibition:
La Botanica, is a group exhibition curated by The Culture Candy at Orange Blossom Miami for Miami Art Week 2022. The exhibition features artists Lee Lee La Cubana, Junior Charles, MC Hewlett, Lara Arbore and Monito Bandido from The Culture Candy Artist Collective. La Botanica, is an art-gardenesque curation showcasing a mix of artistic style including pop-art, abstract painting, spiritual art and folk art styles to represent strength in diversity and individuality coming together to create a community garden of inclusion.
"Art is like a border of flowers along the course of civilization." – Lincoln Steffens
About the Culture Candy:
The Culture Candy is a NYC based arts organization that celebrates Culture, the arts, and underrepresented artists by providing up and coming artists with showcase opportunities. The Culture Candy is dedicated to encouraging young minority, female, LGBTQ+, and many other underrepresented creatives to pursue their artistic passions through their involvement in community programs, pop-up events, gallery exhibitions, and facility curations. The Culture Candy is a woman and minority owned business, created with us in mind. We seek to diversify the art world by creating opportunities for people who are underrepresented, like ourselves. That's what makes our mission so personal to us, we take pride in our work, our artists work and our representation. Leaders in innovation, we work to create innovative ways to expand where art is seen and are fighting for the modern day visual artists to receive as much recognition as those in other creative industries.
Related Events