EXPO MICHIGAN – Crafters Marketplace – Small Business Fair – Lakeside Mall
November 24
@
11:00 am
–
December 24
@
5:00 pm
EST
An Opportunity for all businesses large and small to exhibit at Lakeside Mall
Hello
I'm Daniell, inviting everyone to reserve space to exhibit, show & sell at EXPO MICHIGAN Holiday Marketplace 2023 Pop Up Shops at Lakeside Mall.
This is the 12th year for events in local malls: Crafters Marketplace, Small Business Fair, Entrepreneurs Expo.
There will be over 1,000 vendor spaces inside stores at Lakeside Mall.
Spaces are 8×10 in the front and 10×10 in the middle and rear.
This will be inside several stores at Lakeside Mall in Sterling Heights, MI.
A Treasure Hunt for shoppers
EXPO MICHIGAN Marketplace at Lakeside Mall
1,000 vendor spaces inside stores
One thousand artists, crafters, designers, entrepreneurs, vendors WANTED!
The Ann Arbor Art Fair is a Midwest tradition that draws close to half a million attendees over three days in July. The largest juried art fair in the nation, the Ann Arbor Art Fair features nearly 1,000 artists and a footprint spanning 30 city blocks in downtown Ann Arbor.
EXPO MICHIGAN at Lakeside Mall
can be the biggest indoor vendor event ever in Michigan! (not affiliated with Ann Arbor Art Fair)
2023 Events
SPRING FLING – April 1 & 2
Friday & Saturday 11-7, Sunday 12-5
100 spaces inside 30,000 foot store, includes table, chairs, matching tablecloth
$99 before March 2023, regular $125
-———————————————————————————–
EXPO MICHIGAN Holiday Marketplace
November 24-26 December 2-3, 9-10, 16-17, 23-24
1,000 vendor spaces inside stores at Lakeside Mall
Reserve space and exhibit here, one weekend or more.
Spaces only $55 before June 2023,
$75 before September,
regular $125 each week
ALL WEEKS, FRONT OF THE STORE SPACES
$299 before June, $399 before September, $499 regular price
Go to www.EXPOMICHIGAN.com
Print REGISTRATION form. Fill in and send with a check or money order.
Oakland County Business Association Inc
995 N Pontiac Trail #222 Walled Lake, MI 48390Rese
Reserve online EVENTBRITE ticket service, plus ticket fee.
Pay online. Fill in REGISTRATION and email back.
www.EXPOMICHIGAN.com EXPOMICHIGAN@gmail.com
Mark on your Receipt, Danielle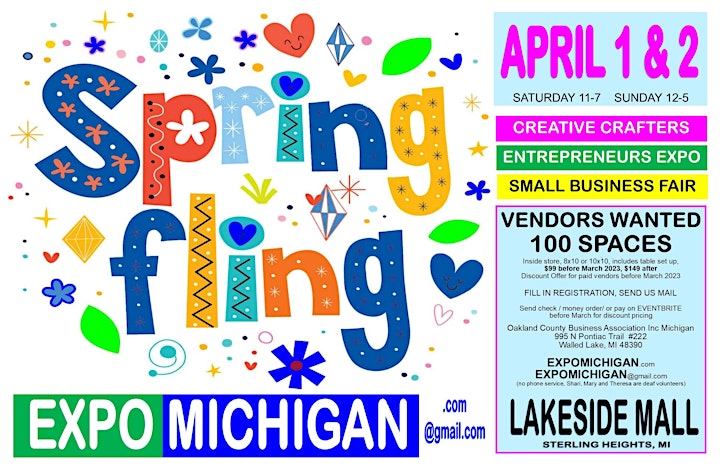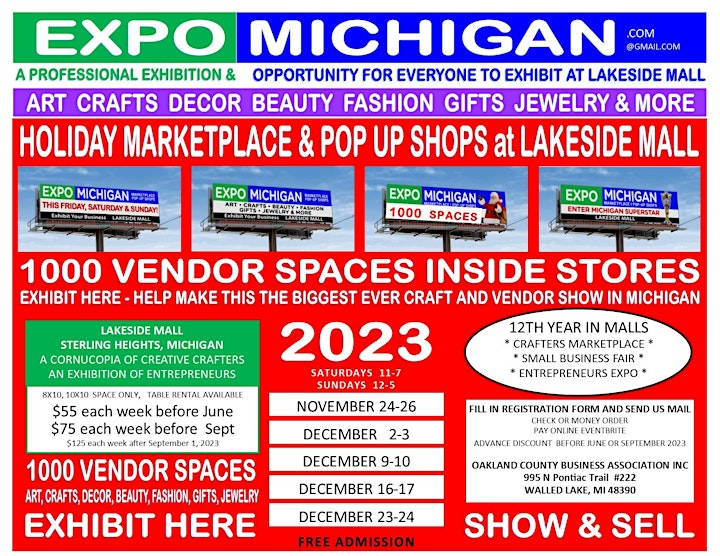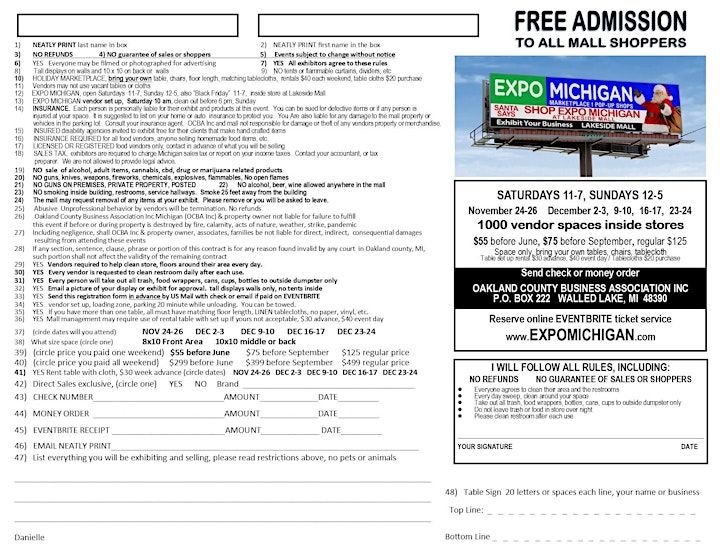 Related Events