Open Studio Tours
October 1 @ 12:00 pm

-

6:00 pm

CDT
Tour various open studios across the City of Chicago, such as The Weaving Mill, LMRM, the Passementerie Mill, amongst other artist studios.
(Image: 2019 Chicago Textile Week of visitors to The Weaving Mill, browsing for artist-woven textile goods.)
Tour open studios across several Chicago neighborhoods. These creative participants working with and adjacent to textiles make up the life-blood of Chicago's fiber community, including The Weaving Mill, the Passementerie Mill, and the studios of artists Melissa Leandro, Bryana Bibbs, Robert Paige, Aubrey Pittman, and Hope Wang & LMRM. Please refer to each individual studio description for address information.

(Courtesy of The Weaving Mill)
1801 N Spaulding Ave, Chicago IL 60647
Free parking available. Capacity: 50 ppl
The Weaving Mill is an artist-run industrial weaving studio that blends design, production, textile education and research-based practice. They produce small runs of fabrics, home goods and apparel, self-publish zines and other research-based publications, host an annual experimental artist residency program, and in partnership with Envision Unlimited, run textile education programs for adults with developmental disabilities. In all these realms, they aim to fill the space between the hand and industrially made and bring the mechanics of textile production into wider view.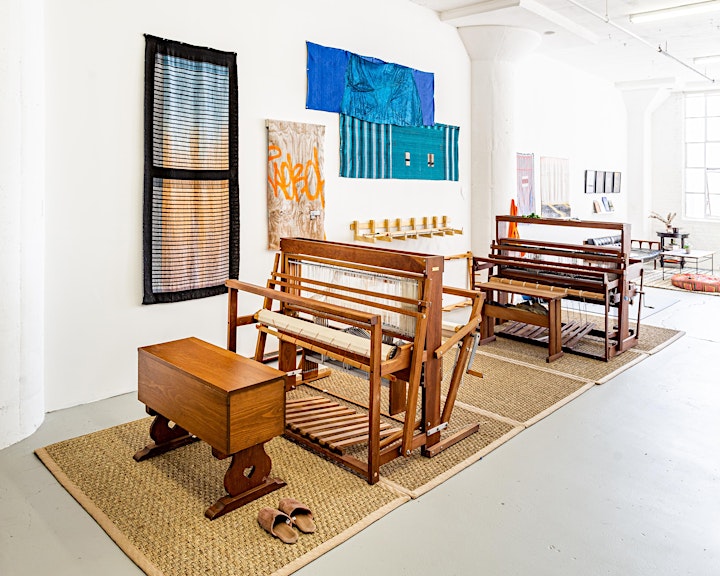 (Courtesy of Hope Wang, photo by Will Quam/Brick of Chicago)
Mana Contemporary 2233 S Throop St. Chicago, IL 60608 Studio 211C
Free parking available on the east side of Mana Contemporary. Buzz the bell at the glass doors for access to the building. Stairs are behind the front desk. Capacity limit 30 people at a time.
***Please note: Her studio is a shoe-free space. She requests that you kindly remove your outdoor shoes when entering her space. Shoe-coverings will be provided as well.
Hope Wang is an artist, arts facilitator, and entrepreneur based in Chicago, IL. She runs LMRM "loom room", a floor loom rental studio where she hopes to broaden accessibility to weaving equipment for fiber artists in Chicago. Wang is also a former organizer of Chicago Textile Week 2019 and 2021. She received her BFA from The School of the Art Institute of Chicago in 2018. Wang translates images of architectural "scars" in factory parking lots, construction sites, and city commutes through repetitive processes such as handweaving and printmaking. Contending with sloppy traces of human activity around sites of industrial labour, her work considers the ways architectural spaces become artifacts of memory. She explores loss and longing, as well as questions what happens to our memories when those physical artifacts disappear or change.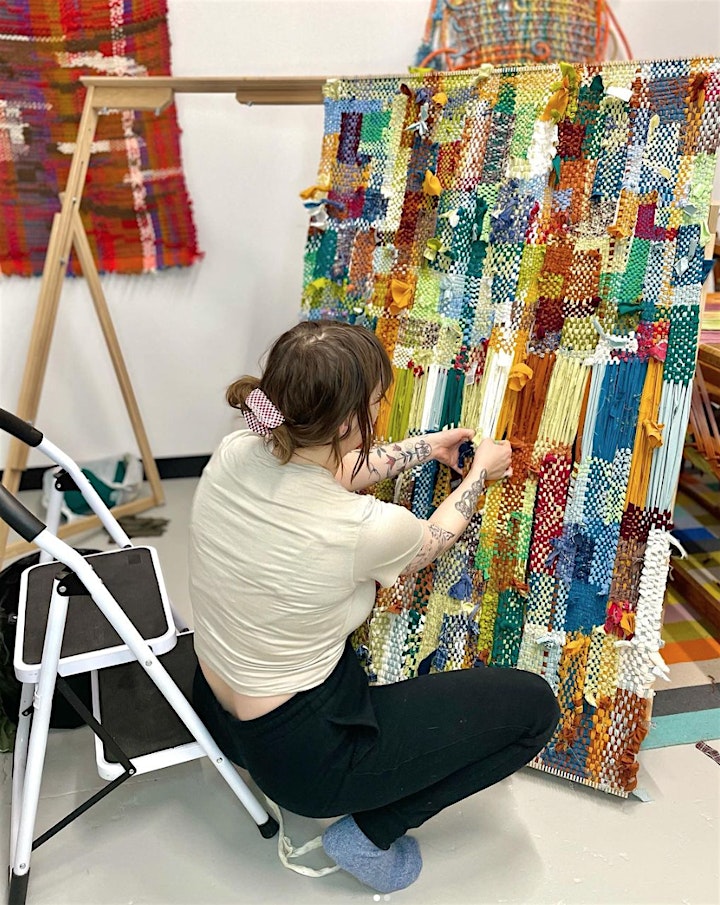 (Courtesy of Aubrey Pittman)
Mana Contemporary 2233 S Throop St. Chicago, IL 60608 Studio 661
Free parking available on the east side of Mana Contemporary. Freight elevators to the 6th floor operated by front desk staff.
Aubrey Pittman-Heglund (b. 1995, Chicago IL) is an American artist based in Chicago, IL. They earned their BFA from the School of the Art Institute of Chicago in 2017 with a focus in Fiber Material Studies and Art Therapy. As a working artist, their body of work explores the relationship between climate change and contemporary textile production, by utilizing research into quantum physics and the history of textiles and design. They embrace a material language of recycled objects to satisfy an obsessive need to balance their unethical contributions within late capitalism. Their work has been shown internationally and they have previously facilitated workshops through Haystack Mountain School of Craft and the Textile Art Center. Aubrey is the Head of Textiles at Studio Herron, a bespoke textile and furniture company in Chicago.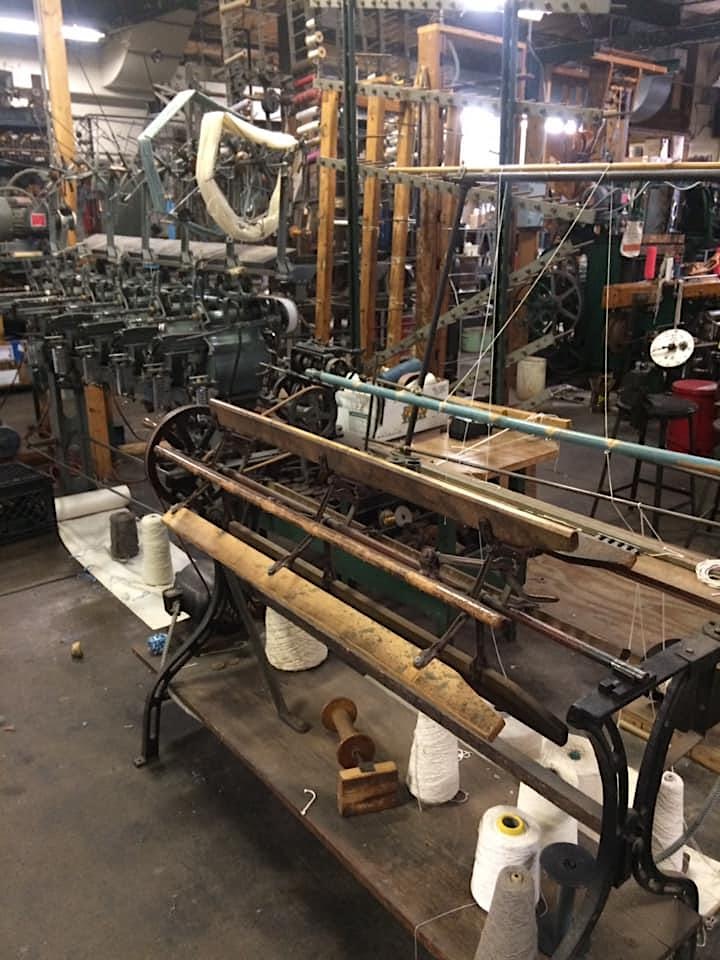 (Courtesy of the Passementerie Mill)
2101 N Monitor, Chicago IL 60639
Parking is available on Churchill only. Please be sure to dress appropriately for the Passementerie Mill, as there are large and heavy machinery operating in an old space. The mill has an indoor capacity of 30 people; tours will be led in groups of 10.
THE PASSEMENTERIE MILL is the successor to Roger's Textile and Trim, which, like The Weaving Mill, traces its roots back to the Theodore Merwitz Company. For the past 4 years they have been restoring the equipment to functional condition and teaching themselves how to operate the machines, some with parts dating back to the 19th century. There are narrow looms, warp knitters, braiders, twisters and a 100-foot long rope walk. They have an in house dyeing facility with a 60 gallon botanical indigo tank and all manner of winding equipment.
While shaking out the machines they did lines of shoelaces, carpet fringe, guitar straps, mask lanyards, Made in Chicago labels, and denim belts. Along the way they have been taking on commission work for the upholstery and automotive restoration industry. They've gained expertise and the ensuing confidence it brings and are now more actively pursuing bespoke orders.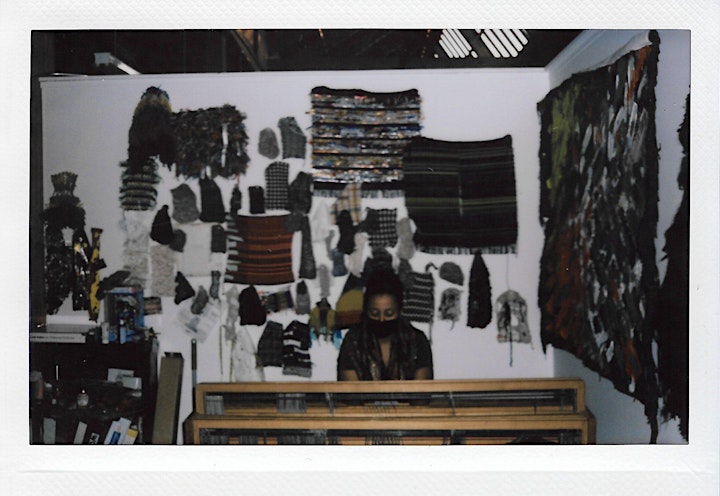 (Courtesy of Bryana Bibbs)
Bridgeport Art Center 1200 W 35th St, Chicago, IL Studio #5d5401
Free parking available. Entrance is the East Entrance/Gallery Row. 5th Floor in the Fashion and Textile Design Department
Bryana Bibbs (b. 1991) is a Chicago-based artist who works at the intersection of textiles, painting, and community-based practices. Bibbs earned her Bachelor of Fine Arts with an emphasis in Fiber and Material Studies at The School of the Art Institute of Chicago. Her work comes from her personal life, struggles with daily occurrences, the ultimate strive for comfort, and trying to figure out life one step at a time. She is the founder of "The We Were Never Alone Project – A Weaving Workshop for Victims and Survivors of Domestic Violence" and serves on the Surface Design Association's Education Committee.
The Bridgeport Art Center is a multi-disciplinary creative home for artists, designers, and professionals working across various art forms, media and vocations. It is an inspirational place to work, create, and share ideas with peers. This historic and visually breathtaking Chicago building defines raw urban elegance and features three curated Art Galleries, artist studios, Gallery Row, the Fashion Design Center, Chicago Ceramic Center, the Skyline Loft and the Sculpture Garden Gallery event venues, and a multitude of unique businesses.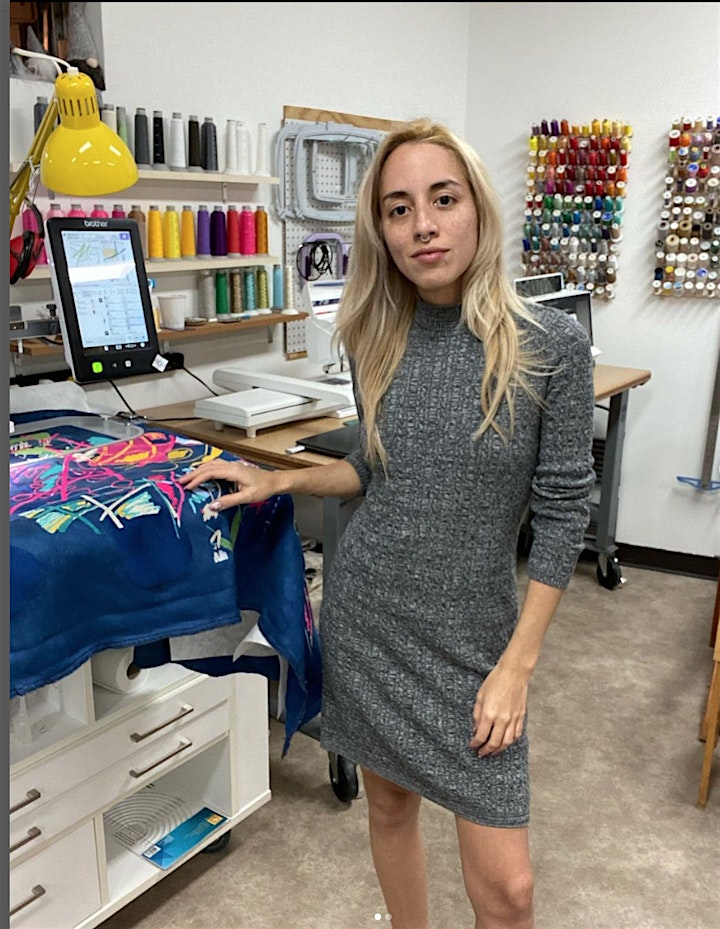 (Courtesy of Melissa Leandro)
4200 W Grand ave Chicago IL 60651
Free street parking available on Grand or Keller Avenue. Indoor capacity is 15 people at a time.
Melissa Leandro (b. 1989, Miami, FL) explores her cultural identity and family memories to create vibrantly layered, topographical textile works filled with her drawn and collected imagery. Her textile works are vibrant, animated and heavily layered through traditional and non-traditional processes of stitching, quilting, weaving and batik dyeing. By mirroring often personal moments of daily life, she manifests thoughts of family history, remembered childhood fantasies and nostalgic cultural ephemera. These works are specific to Leandro's hybrid culture as a first-generation US Latinx artist moving between Costa Rica, Miami, Chicago and abroad. Leandro holds a BFA and MFA from The School of the Art Institute of Chicago (SAIC) and is currently teaching at the Art Institute as a Lecturer and Advisor.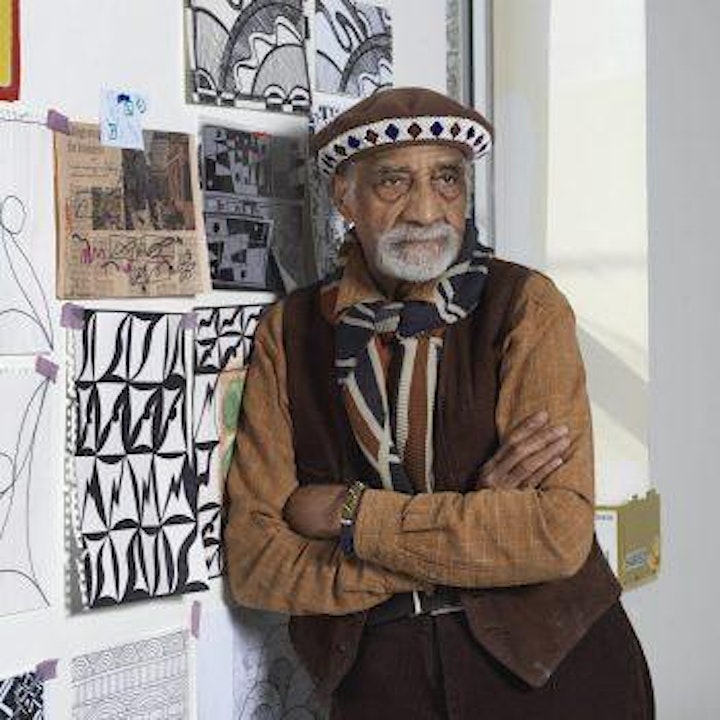 (Courtesy of Hyde Park Art Center)
Hyde Park Art Center 5020 S. Cornell Avenue Chicago, IL 60615
Parking available
Robert Paige grew up on Chicago's South Side in the 1930's and studied design at the School of the Art Institute of Chicago. He is a painter of textiles, whose work focuses on experimentations with vivid color schemes and abstract geometric concepts inspired by West African art and design. Paige's work emerged at a time of cultural richness in Chicago, alongside other Black artists within the AfriCOBRA collective, which he was a founding member and his "kool aid" colors inspired bold graphic representations of people and power. He is well known for his Dakkabar fabrics collection that was available in Sears department stores for several years during the 1970's. Paige viewed the collection as an opportunity to include Black culture in home design. After the international success of his interior collection, he left Skidmore, Owings & Merrill and turned his focus towards youth art education. He believes designing is an organic process and does not continuously churn out mass collections to satisfy the demands of capitalist production. Rather, he is invested in creating beauty that exists beyond the confinement of the museum or gallery space, recognizing that it should be accessible all around us for everyone to experience.
Hyde Park Art Center is a hub for contemporary arts in Chicago, serving as a gathering and production space for artists and the broader community to cultivate ideas, impact social change, and connect with new networks. The Art Center functions as an amplifier for today and tomorrow's creative voices, providing the space to cultivate and create new work and connections.