East Bay Mini Maker Faire 2019
October 27, 2019 @ 10:00 am

-

5:00 pm

Come to the 10th annual East Bay Mini Maker Faire
for an amazing celebration of the Do-It-Yourself spirit!
Bring your family and friends for a day of creative projects, workshops, beautiful crafts, great food, live music, and more. All on the beautiful 4-acre Park Day School campus + adjacent Studio One Art Center in Oakland!  
Event FAQ:
What is included in the ticket price?
The ticket gets you through the entrance gate on 42nd Street where you'll find so much to do at the various exhibits, workshops, musical performances, and general merriment. Additionally, there are food, crafts, or DIY kits available for sale inside. Also, a few activities provided by makers with high cost materials may charge a fee. Please note that some of the food, crafts, and DIY kits may be cash only and there is no ATM on campus. 
Who qualifies for the Child/Student/Senior ticket?
If you are under 18, over 65, and/or a full-time student you can register at that rate. 
Kids 3 and under do not need a ticket. Kids under 15 must be accompanied by an adult.
What exhibitors and activities will be there?
We're recruiting a terrific lineup for you! You can view the list at eastbay.makerfaire.com as makers, performers, vendors, and more are confirmed as we get closer to the event.
I'd like to exhibit!
Great! Please submit your ideas here: eastbay.makerfaire.com/callformakers/
Will you have bike parking? 
Yes! We encourage you to take advantage of our partnership with Cycles of Change, who will provide Bike Valet service on a first-come, first-served basis. Your bikes will be safely and securely held for you at the 42nd Street entrance while you visit the Faire. 
How do I get there by public transportation? 
Easy! The Faire is held on the campus of Park Day School and is a short walk from the MacArthur BART station and bus lines along Telegraph, Broadway, and 40th Streets. Walking/biking/public transportation is strongly encouraged! 
Where can I park? 
If you must park a vehicle on the street, please be respectful of our neighbors and park courteously! Vehicles parked illigally or blocking driveways will be reported and towed immediately.
Or skip the stress of street parking altogether and go straight to the parking lot! We're proud to partner with Emerson Elementary School to offer parking on their campus for a small fee of $10 (cash and cards accepted). A wonderful fundraiser for their school, we invite you to take advantage of this opportunity. Space offered on a first-come, first-served basis. Emerson Elementary School is located at 4803 Lawton Ave, Oakland, CA 94609 and is a short walk to the event entrance.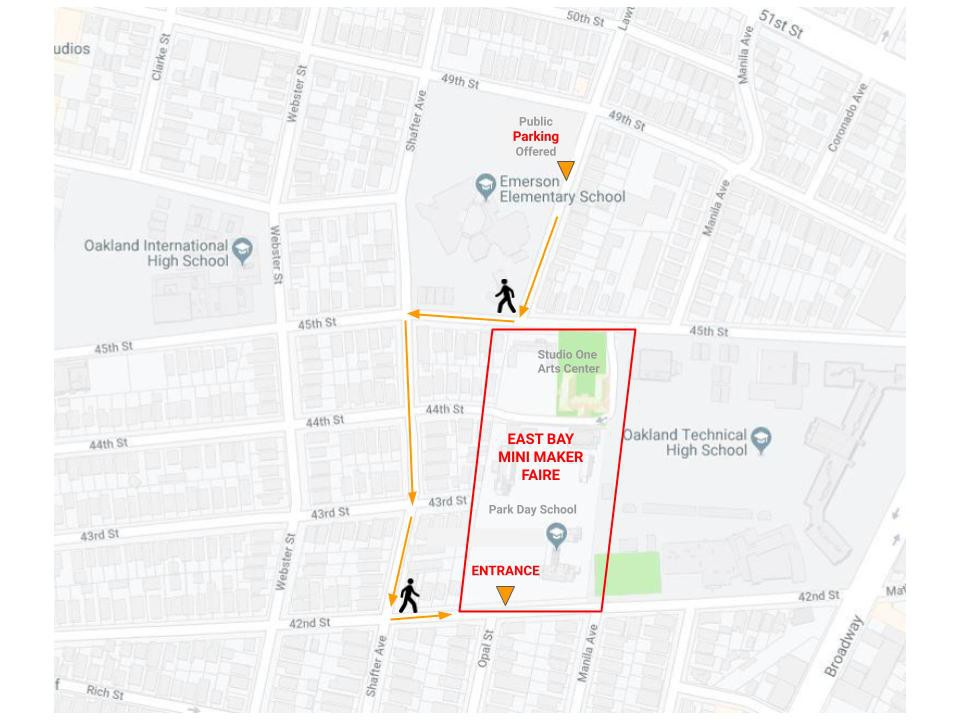 Is the Faire accessable?
The East Bay Mini Maker Faire welcomes visitors with disabilities! Much of the event is accessible by wheelchair, though many Maker booths will be tucked here and there among the beautiful gardens of Park Day School's campus which may be challenging to get to. There's a lot of incredible content at the Studio One Arts Center, too, which is completely accessible.
Visitors with disabilities who rely on assistance from a trained service dog are welcome to explore the Faire to the extent which they are comfortable. 

Can I bring my dog/cat/bird/iguana? 
Sorry, nope. For the safety and enjoyment of all our guests, pets are not allowed on the campus.
Can I volunteer at the Mini Maker Faire in exchange for a free ticket? 
Yes! Please contact volunteer@ebmakerfaire.com.
Are there reduced price tickets available?
Yes! The magic of the East Bay Mini Maker Faire is for everyone! To make this special event accessable to everyone in our community, on the day of the event we will offer a 50% discount on our at the door Adult, Child, and Family Pack admission to EBT (Electronic Benefit Transfer) cardholders and their families. Simply show your EBT card at the ticketing booth to purchase at the door tickets at half price.
What can I expect?
To have a fantastic time! You'll be surprised and intrigued with every corner that you turn!
Are there refunds?
Tickets are non-refundable. If for some reason you can't attend, however, you are welcome to give them to friends to use!
What if it rains? 
The show will go on! Bring rain gear to keep you dry when walking outdoors. Fortunately, we will have many indoor exhibits to keep the family dry. Sorry, but we cannot offer refunds in the event of rain.
Who puts on this event? 
The parent community at Park Day School puts on the annual East Bay Mini Maker Faire. We think it's a fun way to contribute to the Maker community and it beautifully illustrates the Maker-mentality that we foster in our students throughout the year. It's a lot of work, but it's a labor of love and we enjoy doing it!
What is your relationship to Maker Media, the producers of "the big Maker Faire?"
The folks at Maker Media support over 225 licensed and independently-produced Maker Faires in almost 50 countries around the world. They want to spread Maker culture, and they have a very open approach to doing that. We are inspired not only by their event, but by their philosophy. If you like Maker Faire or just making stuff in general, you should subscribe to Make: magazine – makezine.com/
Questions?
Email us at info@ebmakerfaire.com
Please Note:
This is a 'Rain or Shine' event. No Refunds/Exchanges.
Any discount codes offered are specific to online pre-sales and will not work for on-site ticket sales.
We often take photos and videos of the fun and excitement of the event, so please be aware that you may be photographed or otherwise recorded at some point in the day. Those images or recordings may be used at some point in our future marketing materials. By attending, you release any claim for compensation for that use.