78th Street Studios April THIRD FRIDAY Art Walk
April 16, 2021 @ 5:00 pm

-

8:00 pm

EDT
Join the creative businesses of 78th Street Studios as they open their doors for you to explore our April THIRD FRIDAY Art Walk!
We look forward to you joining us for our THIRD FRIDAY Art Walk on Friday, April 16th from 5 to 8 PM!
Many of our resident artist studios and galleries will be open for you to explore, presenting dynamic new exhibits and artwork. You can also join us virtually via Facebook Live between 7 and 8 PM for pre-recorded and live clips of our open businesses and our event.
We'll have live music in smARTspace on the first floor, featuring Carrie King playing French street cafe tunes on the accordion.
As well as Fiercely Serene with a flow performance in RAMP, and The Rock & Roll Hall of Fame will be on site with the Rock Hall Joy Van in the parking lot with music!
As our Thanks to you for shopping with us, you will receive a ticket voucher at the entrance for your paid admission. Exchange this ticket with our participating resident Artists and Galleries for a FULL $5.00 DISCOUNT on your purchase.
List of participating businesses:
Entertainment:
Carrie King – smARTspace
Fiercely Serene – RAMP
Rock & Roll Hall of Fame Joy Ride (outside)  
Outside Access:
Current —Queer in Nature: Abby Cipar (Entrance located off of 78th St.)
KINK Contemporary — Best Supporting Actress: Tim Bekelesky (Entrance located near the Garden)
RAMP Level:
Googie Style/Dave Crider Designs
Yellowcake Shop
ARTneo Museum
The Byzantine
Northcoast Promotions—RAMP Level:
Robert Moorhead – Photo Art & Wine Accessories 
Je Le Veux Jewelry – Hand Designed & Upcycled Jewelry 
1st Floor/smARTspace:
Eileen Dorsey Studio
Laurel Herbold + cowtownchad Studio
Ron Johnston + Betsi Morris Studio
E11even2 — Group Exhibition: Beyond The Garden Gate
Dawn Tekler Studio
Bruce Buchanan Design
Megan Frankenfield Studio
Kinley Studio
Eric Rippert Studio
708 Alexander
Gallery +
Northcoast Promotions—smARTspace:
Altemus Leatherwork – Handmade Leather Bags & Accessories
BB Crafts & Creations – Original bags, pouches & wallets 
Butterfly Designs by Deb – Jewelry & framed butterflies 
Doodlebugs by Devida – Hand Designed Jewelry 
Ellen Weinhouse Gemstone Jewelry – Statement Jewelry 
GE Smith Designs – Silver Smith Jewelry 
Goddess Elite – Yarn, Stone, Wax, Wood and Driftwood Art 
M Clement Reilly Photography  — Digital Photography 
My Turquoise Kitten – Polymer Clay & Textiles
White Squirrel Clayworks – Handmade Functional Stoneware 
2nd Floor:
HEDGE Gallery — 'Evidence of Existence' featuring Karen D. Beckwith & Amber Ford
Suite 215: HEDGE Gallery presents Dale Goode
Keri Lee Studio
Mark Krieger Studio
The Poetry Psychic Project
RampArts Gallery
Kenneth Paul Lesko Gallery
Suite 203: Allen Kradlak Ceramics & Jewelry by Jeff Dube
3rd Floor:
Charmaine Spencer
Justin Brennan Studio
Survival Kit Gallery
Each guest will be checked in at our main entrance, where a sanitizer station is available. Sanitizer stations are also available throughout the various levels of the building.
78th Street Studios is part of Destination Cleveland's CLEan Committed Program, and we require all guests to wear a facial covering upon entry and while visiting. There are disposable masks available at the entrance, and if you'd like to purchase custom PPE while you're here, visit Yellowcake Clothing Co. on the RAMP Level.
78th Street Studios is carefully following the Ohio Department of Health's, local and county guidelines, and has made extra efforts to keep our facility clean and sanitized, and will be doing so throughout the event as well. Our staff and business owners will be wearing facial coverings and will be monitoring their studios and galleries.
We look forward to providing you with a safe and positive environment to explore some of Cleveland's most awe-inspiring local artwork, and we can't wait to see new and familiar faces once again! We hope that those of you unable to join us in person for THIRD FRIDAY will enjoy us remotely via the Livestream on Facebook Live from 7: to 8:PM!
All are welcome to join the creative businesses here at 78th Street Studios for our art walks. We also welcome well-behaved children and pets!
We look forward to providing you with safe shopping experiences and to seeing you soon! Please note that most of our resident Galleries and Studios have implemented Online Stores for your virtual shopping convenience — Check them out when you visit our website www.78thstreetstudios.com!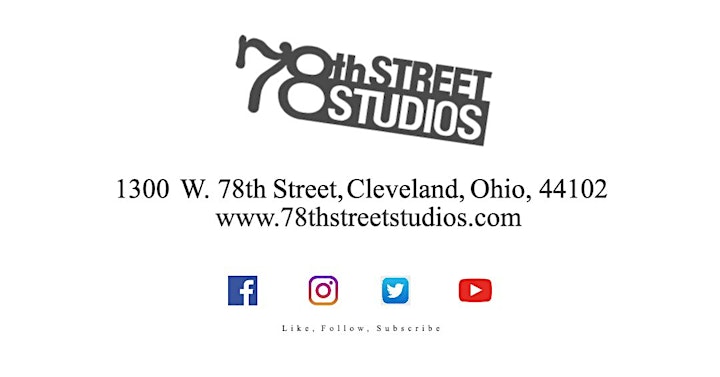 Related Events